9. After you have completed paying your registration fee, please fill out the following personal profile. It will allow you to meet new people through the Community Action Website.
The Website not only constitutes an activist and academic project but also a way to get to know other people who might share your interests. Please note that the information you provide remains private. It is only used to match you with other people who may share similar interests.
During the second week of the Action Period, you will be given a list of names and email addresses. You can email these people if you wish but you are under no, repeat no, obligation to do so. The choice is yours. The Website is simply creating an opportunity to meet new people, that is all. (If you prefer not to provide this information, please leave the drop down menus blank and click continue at the bottom of the page.)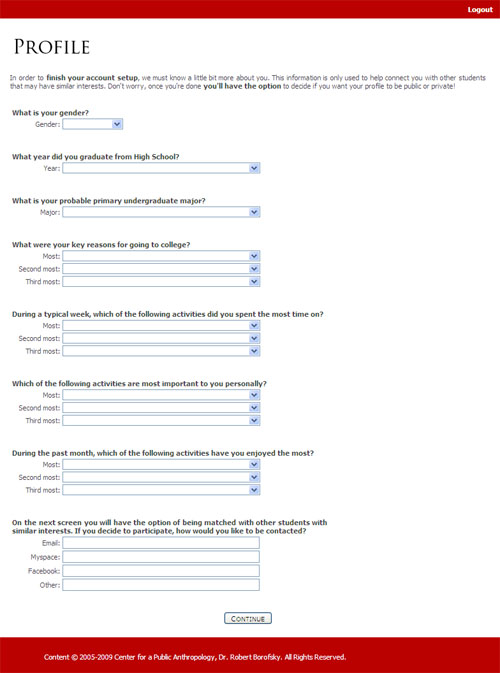 10. Once you click continue, you should see the following web page. This will indicate you have completed the registration process. When the Action Period starts -- you teacher will tell you when it begins -- this web page will change and will provide you with the project's assignment and the appropriate links to complete it.
You probably want to start begin the reading assignment that accompanies the project. To get the book, simply click on the highlighted link on the left side of the page and follow the directions. Parts of the book are in "living color" and, while fairly easy to read, the has lots of important ideas for you to ponder.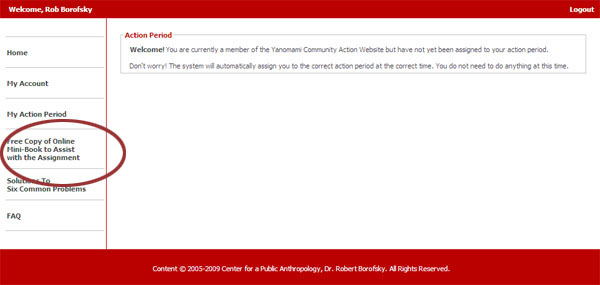 If you have not yet watched the YouTube video
with Bob O'Boyle on the home page (www.publicanthropology.net), please watch it now. It will give you a good overview of what the project is about and what you do during the first week of the Action Period.